Heartburn is no joke, and many people all over the world suffer from it on a regular or sometimes, even a daily basis. For some, one of the biggest irritants is coffee. While good quality coffee can offer a whole host of health benefits, it's also highly acidic in most cases.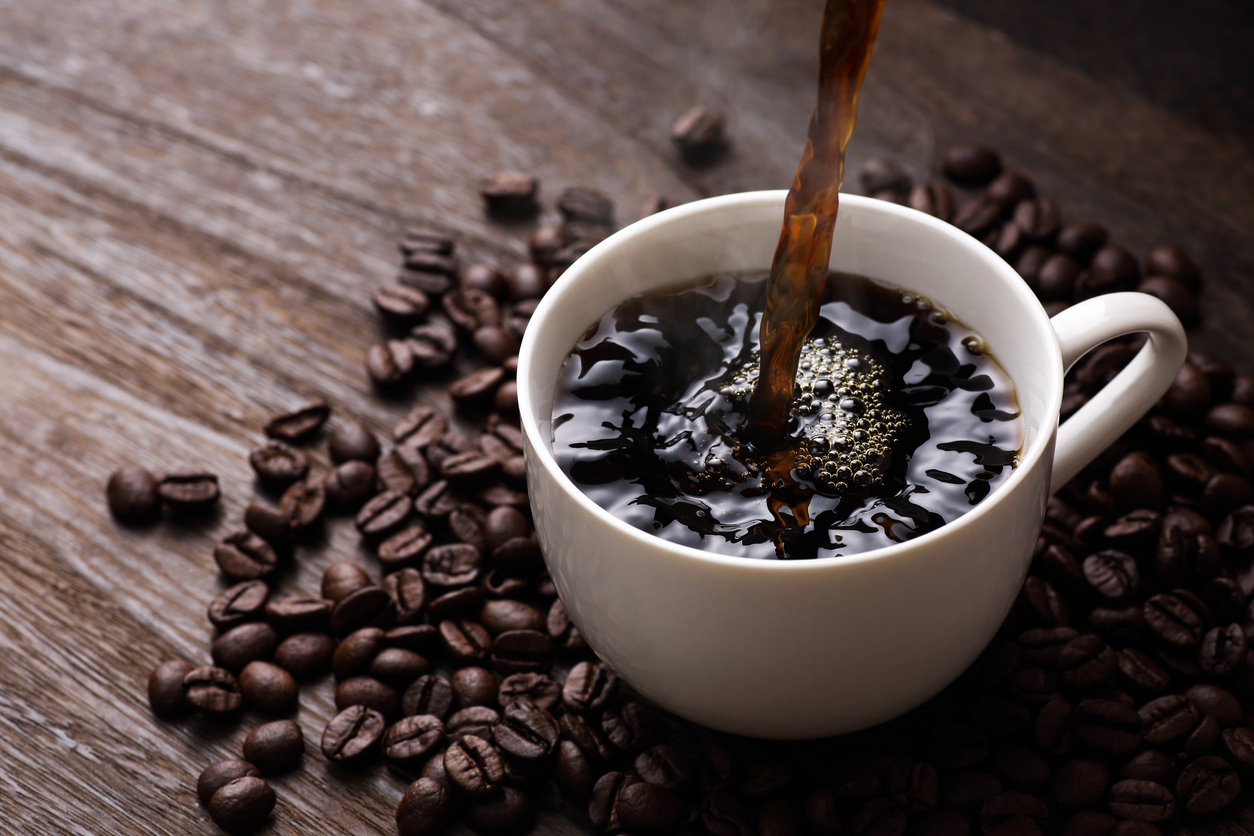 This poses an issue for those who are sensitive to acid but still rely on coffee for their daily energy boost. Or, maybe they just love the way coffee smells and tastes. Either way, it's unfortunate when the acidity prevents people from drinking it happily and comfortably.
This poses an issue for those who are sensitive to acid, but still rely on coffee for their daily energy boost. Or, maybe they just love the smell and taste coffee has. Either way, it's unfortunate when acidity prevents people from enjoying it.
This is where low-acid coffee comes in.
Now, even those with acid sensitivities can enjoy a cup of coffee, without any side effects. Finding the best low-acid coffee allows you to indulge in all the flavors and benefits. All that, without any nagging and painful heartburn or other negative reactions.
Unfortunately, not all low-acid coffees are well made. In some cases, flavor and quality suffer a lot, in exchange for low acid content.
The following list contains some of the best low acid coffee on the market of 2021. They all offer flavor, energy, and quality, while still minimizing the acidity.
---
The Best Low Acid Coffee to Try
After a brief overview, let's jump into the details of these top-rated low acid coffees.
---
Lifeboost Coffee knows that coffee is a fundamental part of many people's lives. Many people rely on it to get them going in the morning and/or keep them going through the afternoon.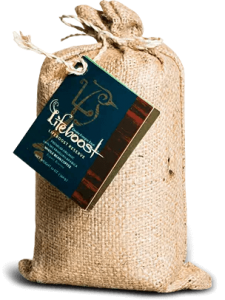 Coffee is also a universal way to connect with family and friends. Just think about all the times when you shared a conversation over a hot, fresh pot of coffee. Lifeboost is about as passionate about coffee as they come. And they want to ensure everyone can truly enjoy it.
That said, they also understand that not everyone can tolerate the same coffee. So they created their Lifeboost brand.
It's a low acid coffee that is also environmentally friendly and healthy for people from all walks of life. The Lifeboost medium roast comes from the highlands of Nicaragua, a place known for some of the best coffee in the world.
At an elevation of 5700 feet, the coffee is grown on a small farm, where it's also washed, dried, and roasted by hand. The land surrounding this farm is pure and clean, producing coffee that's free of toxins and pesticides.
All of this is good news for hardcore coffee lovers, and it's made even better by the fact that it has low acidity. This makes it accessible to even more people.
PROS
It's all-natural, non-GMO, and free of toxins and pesticides
It's environmentally friendly and fair trade
It's good for your health
It comes with a money-back guarantee
They offer it as coffee grounds or whole beans
CONS
---
Low acid coffee should never feel like a compromise on the richness of flavor. If you are willing to taste away from the classic, single-sourced grind, here is a must-try. The Low Acid Blend (Volcanica Coffee Co) is a gourmet blend that brings the flavor you love, with less acidity.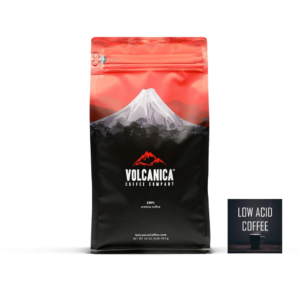 This unique selection of coffee beans offers a flavorsome, always fresh Arabica grind. Experience a balanced roast originating from Brazil, Sumatra and other high-altitude plantations. The volcanic soil in these areas is one of the secrets behind the full body and low acidity of this type of coffee. To potentiate the low-acid profile, the beans go through a slow roasting process. You get to enjoy a chocolate and tangerine medium roast, that is still gentle with your stomach. Given its 5.2 pH, this blend is suitable for those craving for a cup of java that does not backfire on them.
If you have high standards when it comes to freshness, the Low Acid Blend will meet them all. The manufacturing company is highly  dedicated towards preserving coffee's most precious qualities. Knowing your mix is freshly roasted and shipped within one business day is a big plus. More than that, the company also dedicates efforts towards sustainability.
PROS:
It is a very budget-friendly roast.
It comes as a balanced blend of low-acidic beans.
Each package has only high-quality Arabica coffee.
Your roast comes with guaranteed freshness.
CONS:
Compared to a single-sourced grind, this blend may be a bit unpredictable in terms of flavor.
---
If you are looking for an exotic roast with a heavy body, yet low acidity, the Komodo Dragon Coffee is a great option.
The tropical climate on Flores island is highly favorable for many things. Found east of Bali, this Indonesian corner of paradise is home to a large diversity of species. Komodo dragons, the impressive giant lizards thrive here. As well as some exquisite coffee beans. And Volcanica Coffee has devoted great efforts to make the most of this area's potential.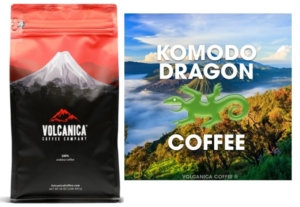 The rugged, elevated terrains and volcanic soil make it ideal for coffee plantations. Add a warm climate with plenty of humidity and you will get the perfect, fertile environment. The beans originating from here are carefully harvested and processed. The result is a roast with floral notes, alongside hints of tobacco and cocoa.
High-quality and 100% pure, the Komodo Dragon Coffee is one more of Volcanica Coffee's gems. The company offers unique blends, harvested from the most exotic, volcanic locations. To enhance the low acidity of these beans, they rely on wet hull processing. Your coffee of choice arrives always fresh and flavorsome to you, as they do the roast only after you order.
PROS:
Always delivered freshly roasted (only after you order).
Every roast is 100% consistent, made of single-origin beans.
carefully processed (wet hull) to enhance the natural low acidity
The blend has a rich flavor and a rather heavy body.
One more high-quality variety of coffee, at an accessible price.
CONS:
Less appetizing flavor for those on the look for a lighter coffee.
---
When you crave for a special treat in your morning mug, Volcanica Coffee has several answers. The Hawaiian Extra Fancy Kona Coffee is one of the exquisite ones.
Grown in an elite location, this 100% pure Kona roast is rare and precious. As one of the most wanted grinds in the world, genuine Kona Coffee is actually hard to find. Originally grown in the north and south side of Kona, Hawaii, the beans have a floral-fruity taste.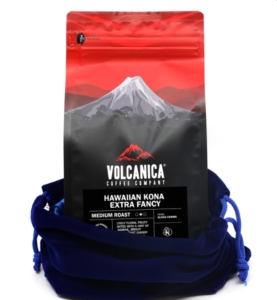 However, many Kona products are blends from various plantations across the world. Unlike them, the Hawaiian Extra Fancy Kona Coffee is exclusively harvested from Aloha Farms. In addition, the roast has the highest grade of quality among Hawaiian coffees. The grades are usually given according to their large size, low defect rate, color and taste. Granted the Extra Fancy label, the beans used in this roast are large, and have a low defect rate. They impress through their superior taste and appealing uniform color. You know you get the highest quality coffee beans when choosing this grind.
Enjoy a delicious exotic flavor with a low level of acidity. Thanks to the volcanic soil in the area, beans are naturally low in acid, but rich in aroma. Your roast provides a bouquet of floral-fruity notes, like jasmine, citrus, tart cherry. The luxurious fresh roast that you order also comes in a worthy of admiration package – a blue velvet bag.
PROS
It is a 100% pure Kona Coffee roast.
It is ideal for those looking for an exotic, floral-fruity coffee.
It uses only coffee beans of the highest quality (Extra-Fancy grade).
Single-sourced, the beans are only cultivated in minimal supply.
It is Kosher certified and always freshly roasted.
It comes with an elegant packaging.
CONS
As an exquisite sortiment, it falls in the high-end category of coffees.
---
At least once in a lifetime, you should taste the best coffee in the world. And if you are wondering which one could that be, well, this article gives you some ideas. Yet the Jamaica Blue Mountain Peaberry Coffee is pretty close to earning that title.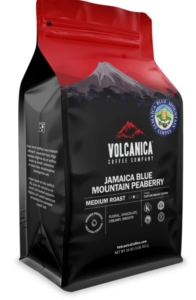 This balanced and luscious roast may come across quite intense at first. But once you try it, the floral and smooth flavor becomes highly satisfying. The strong aroma comes from the high-quality, single-origin Peaberry beans used. It is what makes this roast so rare and very desired by the coffee connoisseurs.
Manually harvested, the blue-green beans are carefully processed to preserve their qualities intact. Certified as official Blue Mountain Coffee, this specialty grows at 2000-5000 feet altitude. From high up in the Jamaican mountains, the precious beans are meticulously collected. Given the special conditions of cultivating this coffee, each crop is very limited. Plus, the sun-drying method contributes to potentiating the silky cream and chocolate notes.
If you ever wondered how coffee taken to perfection tastes like, definitely try this one. The Jamaica Blue Mountain Peaberry Coffee will leave you lingering. Prepare yourself a cup of this brew and flood your senses with an outstanding aroma.
PROS
It is 100% made of top-quality Peaberry beans.
It is fully certified as Blue Mountain Coffee (high quality Jamaican coffee).
It is Kosher and Rainforest Alliance certified.
Provides a strong flavored brew, with floral, cream and cocoa notes.
All crops are single origin, 100% manually harvested.
It is often referred to as the Best Coffee in the Caribbean.
CONS
Can be difficult to obtain, given the limited crops.
The top quality of the beans and processing methods place it in the high-end range of coffee.
---
This geisha coffee is from Costa Rica, and it has an Ethiopian wild coffee origin. It gets its name from the Ethiopian town where the first coffee plant originated, and it's a rare and ancient blend. The beans are also grown in Tanzania, Panama, Columbia, and Peru.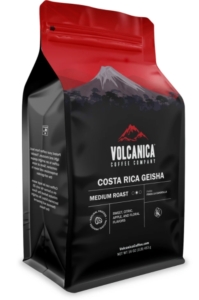 Wherever it's coming from, crops are limited each year, which is what makes it so rare and often hard to come by. However, if you manage to get your hands on some of it, you may never go back to other coffees again.
The coffee beans are different from most – they are long, slender, and naturally resistant to some diseases. It also contains about 30 percent less caffeine than most coffee, which can be considered a good or bad thing, depending on who you talk to.
The taste is described as delicate and soft, with a complex aroma that combines lavender, cacao, and hints of molasses. It's a medium roast and sometimes difficult to come by as the crops are quite limited each year.
There are different varieties of this coffee, but the bottom line is that it comes from a unique place that offers a powerful, unique, and versatile blend of coffee. For all its rare and unique traits, it's also low in acid, making it ideal for those who want a wonderful coffee that won't cause heartburn.
PROS
It's a rare and unique blend made from rare and unique beans.
It has a sweeter flavor than most coffees which some might find off-putting.
It's made locally, meaning you're supporting a small, family business.
CONS
Stock can be limited as the crops are limited each year.
It has lower caffeine content than some coffee, which can be a turn-off for those who want a good kick.
---
The company began when two coffee-lovers met, fell in love, and got married. They combined their mutual love of coffee and began a business dedicated to unwavering and unmatched quality.
They strive to let their passion for coffee shine through as they work extremely hard to provide high-quality coffee for their equally passionate customers around the world.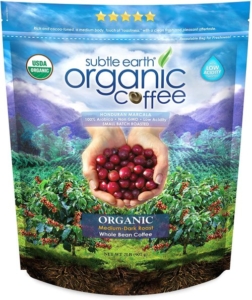 Subtle Earth is dedicated to producing the best possible coffee that they can. They source 100% pure Arabica beans from around the world and slow roast them in small batches to ensure quality. Their main source is in Honduras and is acquired through the Sharing Certified Program.
They've developed solid relationships with their suppliers to ensure they always have access to only the best possible beans. They also guarantee maximum freshness as their roast-to-order small batches ensure that the coffee gets to you as soon after roasting as possible.
They pay great attention to every step and detail of the process to ensure you enjoy a fresh, rich, and flavorful cup of coffee every time.
Not only is the coffee itself high-quality, but it's also among the healthiest options. It's certified organic and is completely non-GMO, as well as having low acidity. The blend is available in light, medium, and dark roasts and in whole bean form or in individual serving sizes.
PROS
It's made in small batches so they can carefully control the quality.
It's a small family business, meaning attention to detail is unmatched.
It's certified organic and non-GMO.
They offer a money-back guarantee if you don't absolutely love the coffee.
CONS
The grounds aren't available in large quantities.
The flavor might be too sweet for some.
---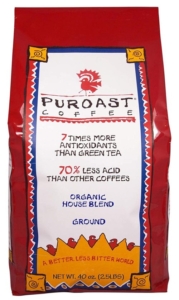 This is a unique and versatile blend of coffee that caters to many different types of customers. For the health-conscious, this 100 percent pure, all-natural coffee has seven times more antioxidants than green tea.
For those affected by acid, it has an impressive 70 percent less acid than your average blend. They've developed an innovative roasting process that is unlike any other company in the world. This is what helps bring out the potent and powerful flavor without overwhelming the drinker with the effects of acid.
The flavor is bold, but the finish is smooth without any bitter aftertaste. They want their customers to have complete confidence in their process, taste, and quality, which is why everything is backed by research.
Their goal is to deliver a "feel better, not bitter" coffee, and they succeed every time. A pure, healthy, low-acid coffee like this one is also fantastic for those passionate about their fitness. Many use coffee before a workout to fuel up, the caffeine offering the boost they need to power through the tougher stuff and push themselves.
However, drinking a pre-workout coffee that's filled with sugar, chemicals, or any other unhealthy additives will only serve to negatively affect the results of the hard work you put in.
PROS
It contains a high amount of antioxidants.
It's 100 percent pure, natural, and organic with no additives.
Their unique roasting process brings out a wonderful aroma and a powerful flavor with a lovely, smooth finish.
It does not leave a bitter aftertaste.
CONS
The aroma may be too overpowering for some
---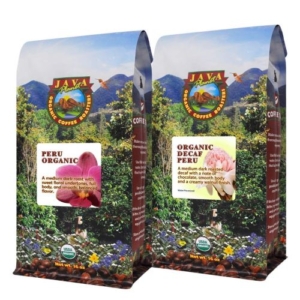 This family-owned and operated coffee is made with 100 percent organic certified arabica whole beans grown without chemicals or GMOs, making it rich in antioxidants and good for you overall. They only roast in small batches, allowing better temperature control for maximum depth and richness of flavor.
They only package their coffee in whole beans, wanting to ensure you have the freshest possible cup every time. This also allows you to grind it in any way you want, depending on your preferred brewing method.
For those worried about the environment, you can rest easy with Java Planet as they only grow their coffee with environmentally and socially responsible farmers. They ensure all workers and staff are treated reasonably and fairly without disrupting the natural habitat of native species.
Their roast is medium-dark, giving you the best of the original coffee flavor and that which comes with the roasting process.
PROS
It's all-natural, organic, and non-GMO.
It's roasted in small batches to ensure freshness and the best possible taste.
It's fair-trade and environmentally conscious, meaning workers, and their surroundings are treated well.
The company is family-owned and operated.
CONS
It's only available in whole-bean form.
It's only available in a medium-dark roast, nothing lighter or darker.
---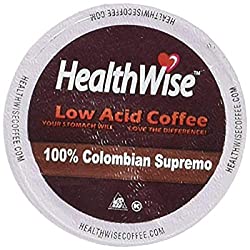 This coffee is made exclusively with the highest-grade Columbian Arabica beans available and is put through a unique and innovative Techno Roasting process.
This process is what reduces the acid that is common in other coffee and is known to cause heartburn and other issues. Techno Roasting also preserves the healthiest parts of the coffee – the minerals, antioxidants, vitamins, and other nutrients that are often lost in the traditional roasting process.
Lastly, the process works to reduce bitter, harsh flavor and aftertaste that often comes with coffee. The result is a rich but mellow taste that won't irritate the stomach.
This particular coffee is compatible with all Keurig 2.0 K-cup systems, making it perfect for those who need a quick and easy low-acid kick in the morning or on the go. It's also kosher-certified and made in a nut-free facility, making it accessible to more people.
PROS
It's roasted with the unique Techno Roasting process.
The coffee contains high levels of minerals, vitamins, and antioxidants.
It's Kosher certified, making it accessible to more people.
It's made in a facility without nuts, putting those with allergies at ease.
It comes in ready-to-go K-cups, perfect for the Keurig.
CONS
The K-cups mean it can't be brewed in any other way.
The flavor may not be strong enough for some tastes.
---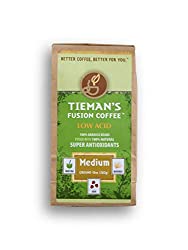 This coffee features some unique and interesting qualities that make it one of the best low acid coffees for those living a healthy lifestyle and looking for some potent benefits.
The coffee is made from 100 percent premium Arabica coffee beans and is then fused with a combination of other natural, healthy additives. It includes green tea for 5-7 hours of strong, sustained energy with no jitters. The rooibos red tea settles the stomach, and the goji berry powder offers anti-inflammatory properties.
This combination is the ultimate blend of benefits for even the most health-conscious people, offering five times your daily requirement of antioxidants. It also makes it appropriate to include in many different diets that may otherwise be difficult to justify having coffee.
While this blend offers a powerful energy boost, the green tea sustains it and ensures you won't crash or experience any unwanted jitters. The green tea burns stored fat to create energy for the body, making it a fantastic coffee to drink if you're trying to lose weight as well.
This is a fantastic option for those seeking a low-acid coffee, and it's also an amazing choice for anyone wanting to elevate their health journey. Good quality, pure, and natural coffee is known to be good for you, even on its own.
Add the health benefits of the tea and goji berries, and you're looking at a powerful health elixir in the form of energy-boosting, low-acid coffee. Even if you don't need your coffee to be low-acid to protect any health conditions, this coffee is still amazingly healthy and beneficial for anyone.
PROS
It's naturally fused with many additional, healthy ingredients for a whole host of health benefits.
It offers many hours of sustained energy with no jitters.
It contains extremely high levels of antioxidants.
It's an extremely beneficial and healthy option for anyone, regardless of acidity.
It's available as a dark roast, medium roast, and decaf.
CONS
It doesn't have the most traditional "coffee" flavor, which may turn some off.
It's on the more expensive side.
---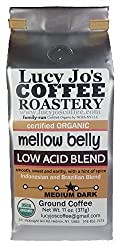 Lucy Jo understands the struggle for those affected by acid, and they take pride in their "mellow belly" blend that is easily consumed by those who can't handle acid. It's made from 100 percent Arabica coffee beans from both Indonesia and Brazil and is certified organic to provide not only the best taste but many health benefits as well.
The coffee is roasted in small batches to ensure high-quality and maximum freshness and is done so by hand in a small, family-run facility. Their hands-on approach means that every part of the process is scrutinized and monitored to ensure quality is never compromised.
The resulting flavor is one that's a perfect combination of earthy and sweet with a hint of spice in there as well. Their roast is the traditional medium-dark that appeals to most coffee drinkers, and it comes already ground for maximum convenience.
They are well-known in their local area for their superior coffee, and they are always looking to expand and bring their expert blend to a broader audience.
PROS
The coffee beans are 100 percent natural, premium Arabica beans.
The blend is certified organic.
It's made in small batches to ensure maximum freshness and flavor.
It's a family-owned and operated local company.
CONS
It's pre-ground, which isn't ideal for those who prefer to buy whole beans.
It's only available in a medium-dark roast, which some may not prefer.
---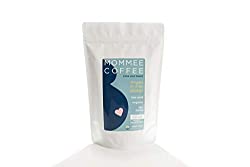 This coffee was designed with moms in mind. In addition to being low-acid, it contains only half of the usual amount of caffeine than regular coffee. This is perfect for those mornings when you just need a little support and don't want to be bouncing off the walls.
The coffee is organic and water-processed, meaning no harsh or harmful chemicals are used in either the growing or decaffeination process. This makes it a quality, healthy choice for those who want a coffee that's good for them.
The low caffeine means that it's safe for moms in all stages of life, whether you're trying to conceive, are already pregnant, or are currently breastfeeding. The company was conceived by a mom who sometimes struggled to get through the day. She wanted to create a product that would be safe, helpful, and help other struggling and hard-working moms feel good about themselves.
They are also proud to make a coffee that's fair trade certified. This is important to them as they care about the health of moms and their babies, and the world they live and grow up in. Knowing that the workers associated with this coffee are paid and treated fairly offers great peace of mind to anyone who buys it.
PROS
It's a special half-caffeine, low-acid blend made especially for moms.
It's organic and water-processed, meaning no chemicals are used.
It's safe and healthy for moms at all stages of motherhood.
The company is certified fair trade.
CONS
The low caffeine levels may not be enough for some who want a full energy boost.
---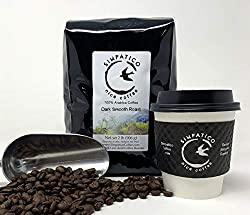 Simpatico is an extremely high-quality blend of low-acid coffee, ranked number one by a number of review sites. Their beans are grown under the shade with a natural forest canopy in Oaxaca, Mexico.
It's made entirely without pesticides, herbicides, or any synthetic fertilizers, meaning you don't have to worry about compromising your health. The beans come from small, family farmers with a love for coffee and dedication to quality.
They promise a strong, rich, and bold taste with a smooth finish. This is achieved through their hand-roasting process done in small batches at their local facility in Holland, Michigan. This gives them ultimate control over the roasting, the temperature, the flavor, and all other aspects.
The coffee features a smoky roast with dark, fruity flavors, chocolate notes, and a creamy body. It's available as a dark roast, which is actually achieved by blending darker and lighter roasts together. They've worked to achieve a roast and taste that everyone will enjoy.
PROS
The beans are grown in the shade without the use of any chemicals, pesticides, or synthetic fertilizers whatsoever.
They're grown by local family farmers who care about their craft.
They hand-roast the coffee in small batches to ensure freshness, control, and quality.
CONS
It's only available as a dark roast which may not appeal to everyone.
---
How to Pick The Right Low Acid Coffee
Finding the best low acid coffee for you can be a long process. Before you dive too deep into your search, try to learn all you can and consider the following:
Understand Acidity
When you're shopping for the best low-acid coffee, it's important that you understand exactly what's meant by "acidity." Some use the term "acidic" to describe the bitter, tangy, or harsh flavor of a particular coffee.
When you're looking for a low-acid coffee, this doesn't actually matter so much. What you're looking at is the actual pH level of coffee. Regardless of how it tastes, an acidic pH will cause the acid reflux and heartburn that you're trying to avoid.
Of course, the flavor is important when selecting a coffee, but if you need something with low acid, you're looking at the pH level first and foremost. The higher the pH level, the lower the acidity.
Health Risks
Many people opt for low-acid coffee because the acid in regular coffee causes some discomfort and low-acid options allow them to enjoy coffee without these side effects.
However, it's important to understand that for some people, it's actually a very serious issue. There are many conditions that, when severe enough in a person, can be dangerously affected by too much acid in coffee:
Acid reflux
Gastric ulcers
Irritable bowel syndrome (IBS)
If you've been officially diagnosed with any of these, it's often recommended that you avoid coffee altogether. Although low-acid coffee can be an option for those who suffer from these conditions, it's important that you heed the instructions of medical professionals above all else.
What to Look For
There are many things that contribute to the acidity of coffee. If you're serious about finding a high-quality low-acid coffee that tastes great and is still good for you, you'll need to consider all the factors.
Once you're familiar with how the acidity works, you'll know what to look for. There are four main things that determine the pH level of coffee:
1. Bean type
Coffee is grown all over the world, and like anything else, where it's grown contributes to the overall quality and flavor of the coffee. There are chemical processes that can take place to alter the acidity of coffee, but some beans are naturally low. This includes beans from Brazil, Sumatra, and Nicaragua.
2. Roast type
Coffee comes in a variety of light, medium, and dark roasts. The type of roast simply depends on how long the coffee stays in the roaster. There isn't a huge difference in pH between the roast types, however, dark roasts will have a slightly lower pH.
3. The brew
There are many different ways to brew coffee, and this also contributes to the level of acidity. Cold brew coffee is a much more arduous task – taking between 12 and 24 hours to make compared to the minutes it takes to brew a hot cup. But, the result is coffee with approximately 70 percent lower acidity, which can make a huge difference to some.
4. Quality of Water
Water is, of course, essential to making coffee. The type and quality of your water can have an impact on the acidity. The easiest thing to do is just use your tap water, but this could mean you're adding chemicals to your coffee without even knowing it.
Many cities insert chemicals into the city's water system to try and mitigate bacteria and diseases. If acidity is something that's very important to you, consider looking into the water you're using to brew it.
Reduce the Acidity
While paying attention to the above-mentioned factors can help you find a coffee with lower acidity levels, there are also some things you can do yourself to reduce acid levels slightly.
Use a French press to increase your brew time.
Go for a coarser grind. You can control the grind by purchasing whole beans and grinding them yourself.
If you don't want full-on iced coffee, brew your hot coffee at a slightly lower temperature.
Choose the darkest roast possible.
Use a pH neutralizer. You can use additives that are neutral or alkaline to neutralize the acid in coffee. A sprinkle of baking soda will do the trick, as will almond milk. Almonds are alkaline, making almond milk the best milk variety to use in coffee to neutralize the acid.
Drink decaf. If you really need the boost, try half-caffeinated coffee and see if it still works for you.
If you really don't want to give up your favorite blend of regular coffee, try mixing it with low-acid blends. This will require some experimenting to find what works for you. But, by doing this, you can still experience your favorite aromas and flavors while reducing the acid levels a little bit.
A Few Final Words
For some, low-acid coffee is not an option. If you have a certain medical condition, you may need to minimize acid levels a much as you can. If this is the case, the low-acid coffee options on this list are all great choices.
If low-acid isn't crucial for you and you just want to be more comfortable, you have some more options. You can still choose to buy a blend that's low in acid, or you may choose to take steps to reduce the acid levels in your current favorite, regular blend.
Regardless, it's important that you educate yourself on acid levels in coffee and what they mean for you and your health as you decide which coffee you want to drink on a daily basis.
---
You may also be interested in: