Let's face it, most of us have been completely dependent on morning cup o'joe, and we won't be able to perform any task without it. And it's not surprising, we actually realize we have been addicted to caffeine spark, but we're fine with that.
However, for any reason, when we miss this much-needed espresso shot any morning, we feel like a fish out of water. And it's totally understandable as only a whiff of coffee can make any coffeeholic fully awakened, reports new research.
So, it's no wonder that everyone loves coffee, but not everybody likes the price tag to a majority of fancy electric machines. You may prefer trekking down to near a coffee shop if there's one, but you'll have to wait until you clench your fingers around your first cup of joe before leaving for work. And the cost of this cup of java is another nightmare if you're a regular coffee drinker.
Long story short, espresso machines are expensive, and you may need to jump over the basic knowledge to operate them fully. Plus, who knows for how long they will last you.
But you don't need to hold your breath as you can still make espresso-style coffee – aka "almost" espresso and it's quite possible.
Here I've jotted down 3 step-by-step methods for brewing espresso, which won't require you to have a fancy machine.
Methods to Make Espresso Without Machine
---
1. French Press Method
According to the recent survey conducted by the National Coffee Association, around 2% Americans were reported using a French Press for their past-day coffee consumption in 2019. So, chances are, you might have one in your kitchen. But if you don't have then you probably don't know what a French Press is.
Basically, French Press is a thermos-sized beaker with a piston that runs through the lid and middle of the beaker. It's one of the most popular and affordable methods to brew espresso drinks.
It won't create holes in your wallet since you can buy a French Press for as low as $25 to $40, depending on the size you choose.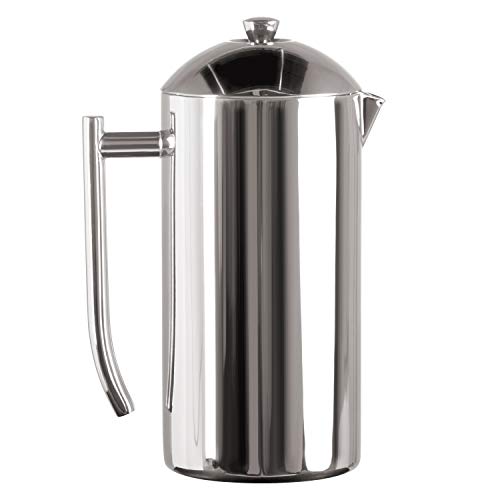 Frieling French Press Coffee Maker
This is a double-walled pot, so it not only keeps your drinks hot four-times longer than glass but also stays reasonably cool to the touch. The outside has a mirror finish, which along with the full-length handle gives it a really modern almost professional look.
What you should know:
More durable than glass
Utilitarian and eye-catching
Better at screening out sediment
What will you need?
Believe me or not but all you need is just a French Press along with fresh coffee grounds and hot water to brew delicious espresso that closely resembles or somewhat matches to the taste of your favorite espresso at just the fraction of cost. It's just that much easy, isn't it?
And if you want, you can also enhance the flavor by topping your espresso with milky foam or whipped cream.
Step 1: Grind your coffee beans
If you're using fresh espresso beans then I'd like to clear a misconception before grinding the beans. Since espresso requires fine grounds to brew a perfect cup but when you're using a French Press, you can't use fine grounds as they will make your coffee muddy and piston won't be able to hold those fine grounds down.
The best practice is to use coarse grounds so your coffee could steep longer enough to make a strong brew.
You'll need 4 tablespoons of coffee to brew 2 perfect cup of espresso.
Step 2: Boil the water
You can use the kettle, you probably have in your kitchen to boil the water as we do for making tea. In meantime, swirl some hot water to the glass container of French Press to make it warm enough so once you pour in hot water later on, it won't crack due to a sudden change in temperature.
Always aim for 200 degrees Fahrenheit as it's found to be the best temperature for brewing espresso with French Press. And If water isn't hot enough, you'll get an under-extracted coffee that tastes like tepid water with coffee hint.
Step 3: Add coffee grounds to pre-warmed French Press
You're already in the middle of the process. Now add the coffee grounds to the pre-warmed French Press and pour some hot water. If you used the kettle to boil the water than let it cool for 20-25 seconds.
As the hot water will touch the coffee grounds, you'll feel an extremely pleasant aroma and the coffee will start blooming. This indicates that coffee grounds have begun releasing all the natural oils for a flavorful cup. But don't let them bloom for long enough otherwise your espresso may lose the rich taste, you're actually for.
The process doesn't end up here so don't rush as it takes quite a bit of time but in the end, you'll clench your fingers over a perfect cup of java and with the first sip, you may feel like over the moon.
Step 4: Pour the remaining hot water and stir
Now pour the remaining hot water and stir gently with a long-handled spoon to prevent clumps and start the extraction process. Please don't stir energetically, the goal isn't to make whirling in the mixture.
Remember, you don't have plunge the filter down yet as the next step is to let the coffee steep for a while.
Step 5: Steep your brew
This is the vital step and will decide the taste of your brew so be heedful otherwise it will only result in the waste of time and money.
The longer you steep, the stronger your brew will be. However, it never means, you'll need to steep for too long for more espresso-like flavor, instead, it will be over-extracted and leaving a sour taste in your mouth and under-extracted if steep time was too short.
Ideally, you can steep for 5 minutes for most desirable results but I'd recommend using a timer (you can use the one, you've in your phone) to figure out the optimal brew duration. So, you would customize your upcoming brews to fit best for your taste buds.
Again: don't press the piston until the coffee grounds are steeping.
Step 6: Press the piston/plunger
Once the coffee grounds steeped enough, hold the lid to the steady and press the piston/plunger down in a steady, even manner until it reaches the bottom.
Not to mention, don't do it in one motion. Rather do it gently.
You may want to experiment with plunging halfway, take it backward just a little bit and then plunge it down all the way to the downward. Lastly, pull it back once you reach the lowest point!
Step 7: Pour your coffee
Now you're all done. Don't leave the espresso too long in the beaker to avoid bitterness. Just pour your espresso right away through a coffee filter to prevent any of fine dregs reaches to your brew.
That's all, you've just made your first espresso with a French Press. Enjoy!
---
2. Moka Pot/Stovetop Method
Invented in 1933 by Alfonso Bialetti, this Italian-made eight-sided wonder, Moka Express is another affordable system to brew espresso quality coffee at the comfort of your home. You might hear about Stovetop espresso – yes, this is another name of the Moka pot brewing method.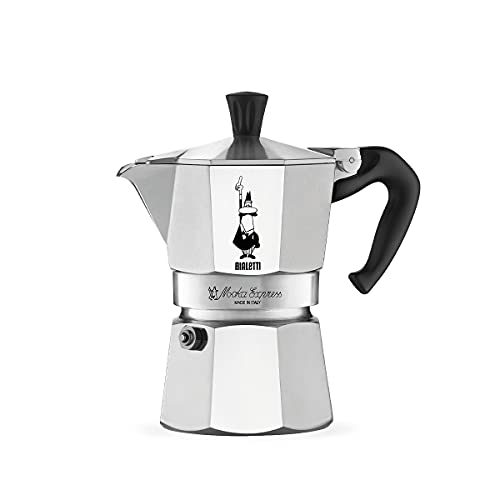 Bialetti Moka Express Aluminum Stovetop Espresso Maker
The Moka Express is displayed in design museums all over the world, and with almost a century at the top of their game, Bialetti must be doing more than a little right.
Classic design
Hardwearing
Easy to use
Makes coffee quickly
Looks great
Multiple sizes available
Excellent value for money
According to a New York Times article, Moka Pot was found in 90% of all the kitchens in Italy in 2016. And it's not surprising because of its ability to brew viscous and dense espresso with no electricity or fancy espresso machine. I'm also surprised to see how this small-ish equipment makes such a magical cup of java on stovetop.
However, if this is something new for you then you probably don't know about it. In technical terms, basically; Moka is stainless steel pot with 3 chambers – the base (boiler) holds the water, the funnel-shaped chamber in the middle detains coffee grounds and the top chamber collects the brewed coffee.
Surprisingly, this method doesn't hurt your wallet as well, you just need to make sure you've the following essentials before preparing your espresso with Moka pot:
Moka pot (costs as low as $25 to $35)
Water
Source for Fire (Stovetop more likely)
Step 1: Grind your coffee beans
You'll need about 20-22 grams of coffee to brew a perfect shot of espresso. Unlike French Press, you'll have to grind the coffee beans as fine as possible for Moka pot.
So the pressure built in the bottom chamber by the steam generated by the stove will consequently pass the water through powdered coffee grounds conveniently and fully, results in more flavorful and fully extracted espresso.
Step 2: Boil water
You can pre-heat the water before pouring in the bottom chamber of Moka pot or not. After all, you'll have to heat the water on stove in the end and it will boil rapidly. So, it's up to you which way you want to go.
However, it's recommended to use the fresh water and don't overfill the bottom chamber than half otherwise pressure built-up won't be evacuated through the valve and your Moka pot may explode.
So, you must pay attention to this step!
Step 3: Add coffee grounds into the filter basket
Fill the filter basket with coffee grounds, slight mounded and shake it gently to settle the grounds evenly or you can level with your finger. But don't push hardly otherwise water won't pass through the grounds properly.
Further, brush away the loose grounds on the top edge of the coffee basket and then place into the bottom chamber.
Step 4: Screw on pot together
Now screw the top spout together with the bottom chamber. Don't over-tighten! Please use hot pads as the bottom chamber will be hot if you used pre-heated water.
Step 5: Put the pot on the stove
It's optimal to use medium heat when you place the pot on the stove. You can easily estimate the heat whether it's too high or too low. If it's low enough; the coffee will barely flow out of spout and if it's too high; the coffee will quickly come out of spout.
So, increase or decrease the heat accordingly. Leave the top lid open and make sure the handle isn't subjected to heat otherwise you won't be able to lift the Moka pot to pour your coffee.
Step 6: Remove the Moka pot
When the bottom reaches to boil, the built-up pressure will push the coffee out of valve slowly and gradually, you'll hear a puffing sound and notice a rich-stream getting progressively lighten in color.
Remove from the heat source once the stream color turns to yellow honey and then close the lid.
Step 7: Pour your coffee
You'll know when it's done, now pour it into cup or cups, depending on the size of your Moka pot. You may wish to dilute your coffee with hot water. It's all up to you!
So, you've successfully made your first espresso coffee using Moka pot/Stovetop espresso method.
Anything else?
Yes, pay attention to the next step if you want to increase the lifespan of your Moka pot.
Step 8: Clean the Moka pot
Cleaning and care improve the lifetime of your Moka pot. It's very easy to clean, you just need to wash it with hot soapy water and mop with a soft cloth. Rinse thoroughly, and you're good to use it next time.
This device won't break your wallet, but it can last you for long.
---
3. Aeropress Method
Invented by Stanford professor Alan Adler, Aeropress is a uncomplicated contraption; made with cylinder, a plunger and a filter at the bottom. It looks more like, it belongs to mad's scientist lab than a everyday's kitchen appliance, isn't it?
It's a more portable and lightweight upgrade of a French Press that brews a sweet and fully flavorful cup – so good that it has become a part of many coffee shops run by artisan roasters.
Sale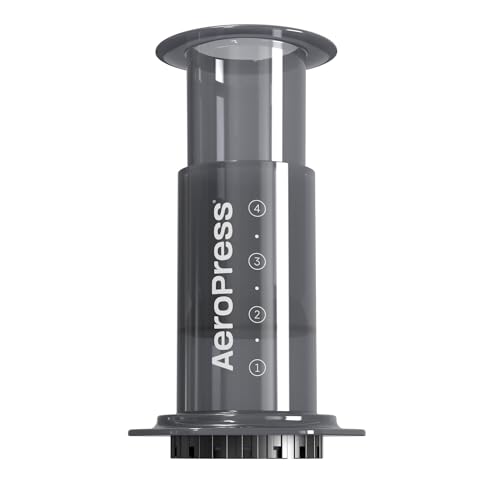 AeroPress Coffee and Espresso Maker
Popular with coffee enthusiasts worldwide, the patented AeroPress is a new kind of coffee press that uses a rapid, total immersion brewing process to make smooth, delicious, full flavored coffee without bitterness and with low acidity.
Material Polyester
Brand Aeropress
Includes the AeroPress press, funnel, scoop, stirrer, 350 microfilters and a filter holder.
Just like its sister methods, this is another low-priced technique to brew espresso without the hassle of pumps and presses.
What will you need?
An Aeropress (price ranges from $15 to $25)
Coffee grinder
Coffee grounds
Water
Without any further delay, let's delve into the process of making more-concentrated shot of espresso with an Aeropress.
Step 1: Grind your coffee beans
You'll need about 2 tablespoons (approximately 23 grams) of coffee to brew a rich-flavor shot of espresso with Aeropress. Just like Moka pot, you'll need grounds as fine as table salt. The size of the grounds matters the most whether you're using a machine or not. So, we must pay attention to it.
Step 2: Prepare Aeropress and put coffee grounds
Before you get the Aeropress ready to brew, you'll need to place a filter into the lower basket. Pre-heat the brewer by pouring the little hot water through the filter to warm it up. This helps you in getting rid of any paper flavor and heat up your mug.
Throw the rinse water from the mug and affix the basket with bottom chamber and dump in your coffee grounds. Shake the tube a little so grounds could settle evenly.
Now place a second filter on the top of the grounds and wet it with a little warm water.
Step 3: Press the plunger/piston
This is the first time press. Push the piston all the way down to the bottom and retract it back to the top. If the grounds look similar to the puck then it means you've done this step in a right way.
Step 4: Add hot water and press the plunger
Next, you'll have to add the hot water (range should be between 200ºF – 208ºF) over the puck of the grounds, filling it to the level that fits best for your taste. If you're not sure then you can simply follow this general rule of thumb; if your grounds are 20-23 grams then fill water up to "2" level, marked on the Aeropress.
Unlike the French Press, you don't have to wait for the steeping time of the grounds. Means? you can brew your espresso faster, obviously.
Now press the plunger slowly once again until you've squashed the puck as best as you can. But don't press or force it too hard otherwise you'll end up collecting your espresso from walls of your kitchen.
Phew, you've made your espresso with Aeropress. Enjoy!
If you're still with me, we're done with our methods of brewing espresso without a machine. But since you're beginner, there are chances you'll probably make the most common mistakes which may end up brewing an undesired cup of java.
So, here I've penned down all the essential factors, you've to clap your eyes on for brewing the best cup of espresso, you've ever had.
Fresh Beans: Other than measurement and quality, the freshness of beans also matters the most. No doubt, you can buy pre-ground coffee for espresso but it won't give you the rich-taste and flavor like the freshly ground beans do. So, always make sure you use fresh ground for your espresso.
Optimal Pressure: It's the most important that differentiate an espresso and plain coffee. Anything that's extracted under less than 9 bar pressure isn't an espresso really. That's why Moka pot and Aeropress are the most recommended method because they build up pressure to some extent to brew an espresso-style drink.
Optimal Temperature: It's another vital factor; if your water isn't hot enough, you'll get an under-extracted shot which will be more of a water with slight coffee taste. Contrary, if the water is too hot, you'll get an over-extracted espresso that tastes bitter. Water must be at an optimal temperature (195ºF – 208ºF) to release all the natural oils from coffee. Consequently, brew a delicious cup of espresso.
---
Final Thoughts
Based on methods, I've explained above, it's no exaggeration that there are a lot of factors you've to take under your wings to get your hands on a top-notch cup of espresso. So, definitely, there is a learning curve to brew great quality espresso that satisfies your taste buds.
On the bright side, all these gadgets – French Press, Moka pot and Aeropress won't cost you a lot. It's more likely a one-time investment on your favorite device that can last you for many years. And by polishing your skills, you can easily make top-quality espresso at just the fraction of cost.
So, ladies and gentlemen, my job is done here, I hope this article might have answered all the questions you've regarding brewing espresso on a budget.
What's next?
Go and brew your espresso, and let me know how it goes for you in the comment section below.
---
You may also be interested in: